Click to thumbnail to select











0
0
(0 Reviews)
Write a Review Here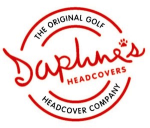 Authorized Dealer
Daphne's Dog Headcovers Details
Bring your dog to the course with you when you use Daphne's Dog Headcovers. These headcovers represent many different breeds of dogs so you are able to find yours or the dog you wish you had. The Dog Headcovers are made from the highest quality material and have a lifetime guarantee.
Constructed from highest quality material
Many different breeds to choose from
Each piece is guaranteed for life
Fits 460cc drivers
Daphne's Dog Headcovers Reviews
Thanks for taking a moment to learn about our "Verified" designations.
We employ verification processes to build credibility and promote product reviews.
Verified Buyer
An individual who has purchased the reviewed item from our company and submitted their review using a process that verifies purchase history. This designation ensures the actual buyer is reviewing the purchased item.
Verified Reviewer
An individual who has confirmed their email address using our validation process. This designation ensures that product reviewers are using their real email addresses.
Product Q & A
Does this fit the Wilson Staff 300 driver?
Wednesday, August 08, 2018 12:49 PM
Hi Daphne! Do you make a white german shepherd dog head cover?
Monday, April 02, 2018 02:12 PM
Do you think the Westie will be in stock any sooner?
Sunday, March 16, 2014 05:26 PM
Answer by a Discount Golf World Expert
Unfortunately, not likely. Daphne's Headcovers does a fantastic job with its product materials, assembly, and overall quality, so the estimated shipping date is pretty accurate. That being said, they could surprise us and arrive early! Please feel free to call DGW at 1-866-411-4349 to check back on the cute Westie dog headcover availability. Thank you for your interest.
Tuesday, March 18, 2014 02:49 PM
Are these headcovers too big to stay on a 3 wood?
Tuesday, October 22, 2013 10:57 AM
Answer by a Discount Golf World Expert
Yes. The Daphne Dog Headcovers are designed to fit 460cc drivers. If your bag is tipped and/or jostled, the headcover may fall off. Discount Golf World does carry Daphne Hybrid/Utility headcovers, which would be a better fit for a 3 wood. If you need further assistance please do not hesitate to contact a member of our staff at 1-866-411-4349. Thank you for your inquiry.
Tuesday, October 22, 2013 11:17 AM
will they fit a taylor made driver (rbz)
Saturday, July 06, 2013 02:10 PM
Answer by a Discount Golf World Expert
Yes, the Daphne Dog Headcovers will fit a TaylorMade RBZ Driver, as they are constructed to fit today's modern 460 cc drivers, such as the RBZ. The USGA maximum club head size is 460 cc, so these headcovers will fit every conforming driver on the market. Thank you for your inquiry to DGW. We hope this information is useful.
Monday, July 08, 2013 08:32 AM
Daphne's Dog Headcovers Variations
Customers who bought Daphne's Dog Headcovers also bought

Nike Dri-Fit Headband
SWEAT-WICKING COMFORT FOR YOUR WORKOUT.
The full manufacturer's warranty from Daphne's is only valid when the Daphne's Dog Headcovers is purchased from an Internet Authorized Dealer. We will match any Internet Authorized Dealer's best price on the Daphne's Dog Headcovers. The Daphne's Dog Headcovers may be referred to by the following terms: 710489100404, 710489101012, 710489201019, 710489202405, 710489203310, 710489205505, 710489206519, 710489291348, 710489502239, 710489795846, 710489854758, DOGS BLAO, DOGS BULDO, DOGS GRET, DOGS HUSJO, DOGS ROTO, DOGS SCH, DOGS YELO, DOODLE, AUSSHEP, CRG, GERMSHEP.
<![if !IE]> <![endif]>