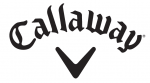 Big Bertha Fusion Fairway Woods use multiple materials in the design and construction of the clubhead, resulting in unprecedented stability and playability. The body, face and sole are cast from strong, heat-treated stainless steel, with a lightweight carbon composite crown wrapping down and into the back ribbon of the body. Because the strong carbon composite material is lighter than stainless steel, the Center of Gravity (CG) of the clubhead is low and back to produce a penetrating ball flight from almost any lie.Thin walls and a light crown increase discretionary weight and varied wall thickness among lofts further optimizes CG.n addition to optimizing CG, Fusion Technology's unique properties deliver a very high Moment of Inertia that keeps the club stable at impact, whether from the tee or fairway.
Wth Callaway Golf's new X-Sole design, the clubhead rests on two distinct, raised areas of the sole, eliminating the tendency of the head to rock back and forth at address. That means a more consistent alignment that will help ensure tour shots start off on-line. A lower leading edge allows you to hit down under the ball, especially helpful on the tight lies. Internal weighting is positioned ideally in each loft, making it wast to get the ball airborne and resulting in a more ideal trajectory.
Big Bertha distance and playability go far beyond the tee with the broadest offering of fairway woods from Callaway Golf. The world's first name in forgiveness gives you all the proven technology you expect with the long-driving, fairwayseeking performance you crave.Modified War Bird sole for galleryworthy performance from any lie. Adjusted wall thickness around the perimeter of the clubhead gives you an optimized center of gravity with distance-enhancing trajectory.Three-part stainless steel construction with an internal weight chip and lightweight crown for optimized center of gravity and playability.
Phone
Customer Service Hours
Mon-Fri: 8am-7pm CST
Saturday: 9am-5pm CST
Address
Discount Golf World
2828 Broadway St
Quincy, IL 62301
Email Sign Up!
Sign up for news and sale notices. Be the first to know!